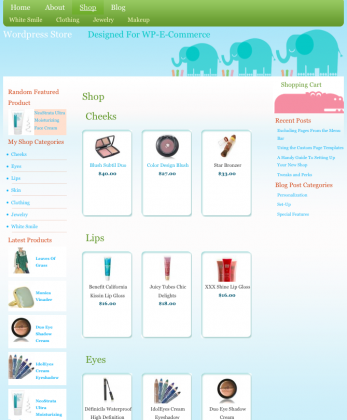 I'm finally done, Whew!
Here is Color-Cart Green ( I know, I couldn't think of a good name.All my brain cells went toward making the thing).

Also introducing Color-Cart Black, a 3 Column,2 sidebar fully widgetized more toned down(color-wise) theme for WordPress. This theme was also designed specifically for the WP-E-Commerce Plugin.Special features include: Random Product in Sidebar and breadcrumbs in single posts. And just looking good if I say so myself. Demo| Buy .
Compatible with 3.7 if you use out of the box without the extra files.
If this new venture goes well I plan to release more free themes. In fact I think I will release one free theme for every paid one. That's a tentative promise!
PS There are a few extra goodies included in the zip file. Please read the readme.txt for all infos. If you need help please allow 24 hours for answers as I am crazy busy!