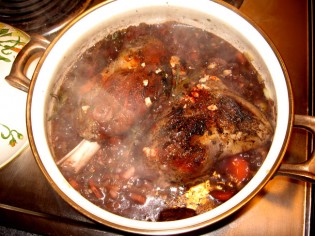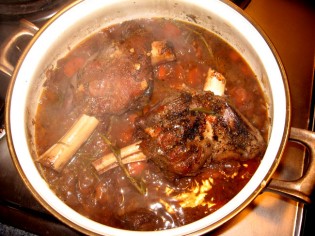 Today is probably one of the last days I can cook this kind of hearty dinner, it being so rainy and cool. Seems we're having a Real Spring in NY!
I've been wary of the Lamb Shank in the past because I found the casing surrounding the shank to be weird. But I've cooked a variation of this dish once before and found out that with a long slow braise this casing turns tender and rather unnoticeable. Don't fear the shank.
To braise means to cook something, usually meat, in a small amount of liquid after it's been browned in fat in a pot with a tight fitting lid on the range or in an oven.This recipe was prepared on the range because my toaster oven couldn't possibly accommodate a big pot.
This recipe feeds 2 and takes about 2 and a half hours from chopping board to dinner bowl.
This meal's ingredients cost under 12 dollars,not counting the alcohol.
Ingredients:
2 big untrimmed lamb shanks,browned on both sides for 6 minutes each side or until nice and brown
3 carrots,chopped
3 ribs celery,chopped
4 cloves chopped garlic,mashed and diced
1 shallot,chopped fine
1 onion,chopped fine
2 stalks of green onion,chopped
2 sprigs of rosemary,whole
2 generous splashes of extra virgin olive oil
2 tsps strawberry preserves
salt
fresh black ground pepper
dash of paprika
1 container of chicken stock
A bit of alcohol
2 cups of red wine
1 splash dry sherry
1 splash brandy,to deglaze the browning pan
In large frying pan:
Heat, add olive oil.
Season shanks with salt and freshly ground black pepper,place in frying pan, brown on both sides, about 6 to 7 minutes each side.
in large heavy pot with tight fitting lid
Heat on medium high add olive oil, add onion, saute until sweaty.
Add celery,carrots,green onion and shallots.
Splash in dry sherry, the vegetables will absorb very fast.
Add wine and chicken stock and strawberry preserves stir well to blend in preserves,turn heat slightly higher and let reduce for about 6-7 minutes.
Submerge shanks in the liquid-it should come about halfway up the sides of the shanks.
Stir in chopped garlic.
Add rosemary sprigs.
Deglaze the pan you browned the shanks in with the splash of brandy and let a high heat burn off the alcohol.
Spoon 2 tsps of the resulting liquid over the shanks and sprinkle them with paprika.
Reduce heat to low and cover. Braise for 2 hours.
Extra meal ideas, not that I am trying to run your life or anything!
Eat with rice or some ribbons of lasagne noodles cut in half down the middle with the shanks and their sauce poured over. We're having basmati rice because we made it a day ago and I am trying to use leftovers instead of throwing them out. You could optionaly add some peeled and cubed potatoes at the start if you don't want to bother with rice or noodles.Or you could prepare garlic mashed potaotoes.Ohhh,garlic mashed potatoes…