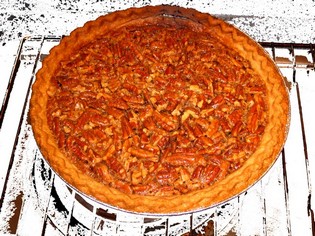 I love pecan pie or at least I thought I loved it.I guess I grew up and my palate just can't handle a certain level of sweet anymore.And I want a drier pie filling because a wetter one skeezes me out to the max. But I've got more important things to obsess over so I went online and typed in not too sweet pecan pie and found this recipe from alpineberry.blogspot.com:
1/2 cup brown sugar,packed.
1/2 cup light corn syrup.
1/3 maple syrup.
3 lg eggs.
3 tbs melted butter.About 35 seconds in a microwave should do it.
1 tsp vanilla.
1 pinch salt.
2-cup bag of chopped pecans.
1 pie shell
Pre heat oven to 350 on bake.
Whisk together in a large bowl brown sugar and the eggs.
Whisk in corn syrup and maple.
Mix in melted butter vanilla and the pinch of salt.
Mix in the pecans and pour into pie shell and bake for 35-40 minutes.
If you've checked out my other cooking efforts you may have picked up on the fact that I bake in a toaster oven.Lately the oven has been running hot so my pie crust burned on the bottom and singed on one section on the top of the crust.Next time I will not place the pie directly onto the wire rack and use a real pie pan instead of an aluminum one.And I will turn it every 10 minutes or so so that the crust doesn't get singed.
Otherwise the pie was still a little too sweet for my tastes but A. loved it burnt crust and all.